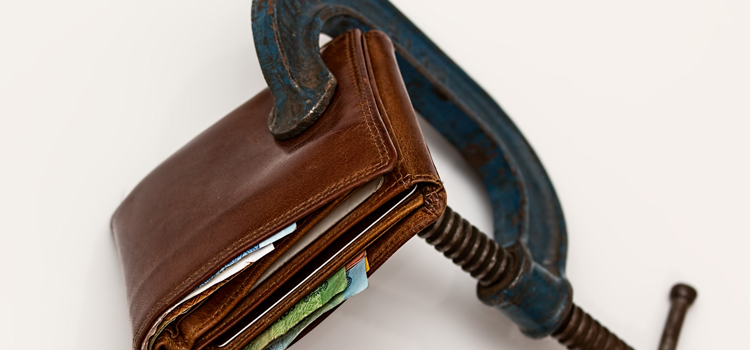 Why That "Ideal Budget" Doesn't Always Work Out
In all of my years of being a financial educator, one thing has been very apparent: things are much easier said than done. I'm sure I could sit down right now and make an amazing, frivolous-free budget that shows me saving over $1,000 a month and paying off all of my debt as fast as possible. Unfortunately, it's usually way easier to write down that I will live a life of simplicity than it is to actually do it. Obviously it's a good idea to save money, but sometimes that crazy little thing called life gets in the way and we just mess up and buy something that definitely wasn't in the budget. Here are some common reasons why that budget gets broken "in the moment" and we end up in a different financial situation than we had planned:
Peer pressure. Ahhh the Jones's… They sure are hard to keep up with. When everyone around you seems to have nicer things or take some super sweet vacations, it's hard not to get jealous. The thing is, you don't really know what that person's financial situation is. Maybe they do have more money than you… Maybe they have more credit card debt than you… Maybe they just like spending their money on nice clothes, whereas you prefer spending your money on nice furniture. Whatever it is, everyone spends their money differently and it's important to look at what you DO have, rather than what you don't have.
FOMO. For those of you unfamiliar with FOMO, it means Fear of Missing Out. Basically, if you have ever suffered from FOMO, you may have ended up spending money just because you didn't want to regret not doing something. I'll be the first to admit that this is a pretty significant source of my "in the moment" spending. In fact, I bought tickets for the Red Hot Chili Peppers concert this weekend for the simple reason that they're one of my favorite bands and I didn't know when else I would have the chance to see them. Was this a great financial decision? Maybe not, but I figure one FOMO-driven decision every once in a while isn't going to hurt. The important thing to do is make sure those decisions don't overrun your finances, otherwise you may be missing out on a lot more in the future because you're trying to play catch up from all of your past FOMO spending.
Boredom. Ever get online to look up a recipe and suddenly find yourself with a fancy, electric zucchini slicer that doubles as an ice scraper in your online shopping cart? Probably not because I just made that up, but you get my point. Sometimes people just get bored. Maybe it's because there's nothing better to do or you're just bored of having the same old clothes, shoes, or hair style. Either way, getting caught up on a whim while looking for excitement can get pretty costly.
Poor planning. Sure, mistakes happen and oopsies are bound to come about every now and then, but there are things that you CAN plan for to help avoid financial stress. Buy birthday and Christmas presents early, start a savings account for new tires or possible future car repairs, and plan out meals in advance so you're not tempted to pay restaurant prices for multiple weeknight meals. Making a yearly, quarterly, and monthly budget can really help plan for those expenses that always seem to surprise you. Oh and guess what?! January is a great time to make a budget for the year 2017!
Everyone has faults, but creating a realistic budget is key to meeting your financial goals. Don't try to hide the fact that you go out to dinner every Friday night from your budget, it WILL find out. Instead, give yourself a realistic amount you can spend on your budget and practice the ever-so-coveted act of self-control in order find that perfect balance with your money.
P.S. Happy 2017!
Until next time…