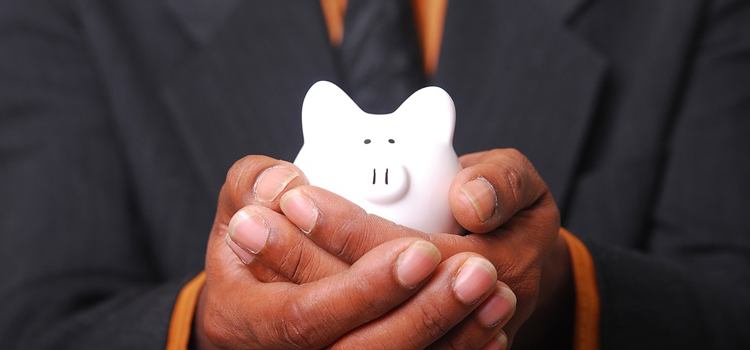 Approximately 34 out of every 100 people in the United States have $0 in their savings account. 34% – that's one person out of every three people.
Saving isn't easy.
I think most of us grew up with piggy banks that were more for decoration than for truly saving the quarters we got for helping with the dishes or other chores. From a very early age, we were taught the value of money but necessarily the value of saving money.
That money only stayed in the piggy bank only until it was time to go to the store. It didn't live in the piggy bank.
There are family stories and cultural anecdotes from the 1930's Depression Era about people who were so afraid of banks and the stock market that rather than invest their earnings they would bury their money in coffee cans on their property. They were so financially devastated that they would live on a modest amount and squirrel away the rest.
We've come a long way in 90 years, in many ways, but our reliance on credit and our attitude regarding savings has regressed. No one is saying we should be burying cash in coffee cans in the backyard, but it is wise to save for emergencies.
Let's look at a story from a month ago:
A single mother of three employed with a federal correctional facility was required to go to work during the recent 35 day government shut down. She had a meager amount in savings that vanished with one rent payment and a trip to the grocery store.
She couldn't afford childcare so she had to call in to work, which resulted in disciplinary action. She used credit cards to buy more groceries and help pay for child care, but she hesitated to get a loan or max out her credit cards because her job as a federal corrections officer also requires her to maintain a certain credit score.
She still needed gas to get to work. The next month's rent loomed ahead, and she and her children needed to eat, and those children needed to be kept safe during the day while she worked her 12 to 16 hour shifts.
Savings could have saved her.
As a society we take so much for granted. The car will start when we get in and turn the key. If we have been responsible, we will still have jobs when we leave work today. We will still get paid on payday. We won't get into an accident on the way home. Our friends and family are safe. Our property is safe. Nothing in our homes is going to break.
We believe all of those things and more to be true, and yet sometime today for someone somewhere one or more of those things is Not True. And when emergency strikes, it – like everything else – costs money.
An emergency is sudden, unfortunate, and unexpected. The only way we can truly, effectively plan for one is to save money "just in case."
ECU has taken steps to help our members save more by incentivizing a new product – the Emergency Savings Account.
It's designed to help our membership not be a negative savings statistic. It earns an annual percentage yield of 0.40%, and we've made a contest out of it!
Each quarter, every person who has read the online savings information we've provided, and opened an Emergency Savings Account will be entered into a drawing to win the matching amount of the personal savings goal for that quarter.
For instance, this quarter the goal is to have an average daily balance of $250 for the month of March. Those who have at least $250 in their official Emergency Savings Account for the entire month of March AND have completed our quick, online savings course will be entered into a drawing to have their $250 matched by ECU.
The same thing will happen next quarter (April – June) when the goal is $500!
Our goal is to keep our membership financially healthy and protected. If we have money in savings, it means that we can save ourselves when disaster (whatever it may look like) strikes. Having money in case of emergency is the first step in making sure you have control over your money instead of your money having control over you, and we look forward to helping you down that path!