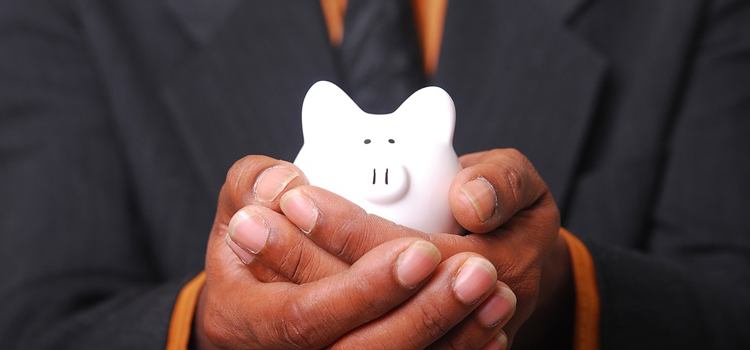 Sink Before You're Sunk!
More and more people are discovering the joy they feel when they completely take control of their finances.
Control begins with a budget, of course, but for those who strive for mastery of their personal financial situation there is an additional tool to use – a Sinking Fund.
A Sinking Fund is a savings account for a specialized goal, and is never used for emergencies. In your house, it may look something like this:
Now, the difference between kitschy jars on a dresser or countertop and depositing your money into a specialized savings account is the amount of interest you earn. At home no interest is earned on your deposits, but a savings account at your favorite financial institution literally pays dividends.
While keeping a hopeful eye on the horizon is essential for emotional and mental health, it is also necessary to keep a practical eye on the things around you, too.
Next to the "Vacation Fund" or "Casino Money" jar there can also be a "New Roof Fund" or "Holiday Shopping Fund".
To be clear, a sinking fund is not an emergency fund – that's something entirely different. When our financial educators talk about budgeting with students in classrooms and members of our community they reinforce the savings percentage that financial experts recommend – 15%.
That fifteen percent can be divided into three parts: 5% – Emergencies, 5% – Goals, and 5% – Retirement.
A sinking fund focuses on the goals portion of the money that we save. Needing a new roof after a hail storm is an emergency, needing a new fence after the wind knocks yours down is an emergency, but knowing that you'll eventually need a new roof/fence/car, etc is where a sinking fund comes into play.
Being pro-active by practicing preventative maintenance for the things around the house or in your lives can save you surprising amounts of money. For example, it's cheaper to have your HVAC unit inspected annually than having it repaired or replaced when something goes wrong. (Most likely that "something" would have been caught and prevented had the unit been routinely inspected.)
Below is a list of three practical places to sink your money to prevent being sunk in the future.
A person's birthday tends to occur on the same date every year. Government holidays are listed on every calendar, and specialty calendars show every other holiday in-between. Yet often when birthdays and holidays make their trek from next year to next week people are surprised, and in some cases strapped for cash to buy their loved one a gift. If a person's special day, event, or holiday is ten months away, and you want to spend $50 for their gift, set up a sinking fund that you deposit $5 into every month. By the time that special day, event, or holiday gets here you'll have their gift money set aside and not have to borrow money (credit card) or go without something yourself to accommodate that special person.
Being a responsible pet owner can be expensive. Once a year, they need a check-up and vaccination boosters, and those aren't free. Your preferred veterinary clinic can give you an estimate for the cost of an annual exam and vaccination appointment for your pet, and you can start saving that money in your sinking fund. Contagious diseases like Parvo or Distemper are very expensive to treat, and can be fatal to our furry family members if left untreated. The average veterinary visit for shots and a general exam in Amarillo is currently $60 (some places charge more, some places charge less), and the average cost for Parvo treatment is $600. It is literally 1000% more expensive for pets to get sick than it is for us to protect them from getting sick in the first place. This goes for flea and tick prevention, too! The wet spring combined with a warm, dry winter makes it likely that our furry friends are going to be very itchy without our help this year. Remember that fleas and ticks carry diseases that can hurt people, too. If we prevent them from getting on our pets then that keeps them off of us!
A sinking fund for pet care is a great way to save yourself money and stress.
Home and Vehicle Maintenance
"When's the last time you checked your oil?" Most of us have someone in our family or friend circle that occasionally asks how we're taking care of our automobile. Things like oil changes, tune-ups, and tire rotations cost money. Tire rotations are cheaper than a blow-out on the side of the highway where we need a tow-truck because our out-of-balance tires have worn unevenly.
Dirty gutters on our home make it difficult for water to run off our roofs causing it to travel under our shingles and eventually through our ceilings. Dirty air filters in our home can collect dust and mold, and make us sick. Paying someone to clean your gutters, is a lot cheaper than the $5,000 – $15,000 for a new roof. Regularly purchasing and replacing air filters is cheaper than doctor bills. An oil change or a tune up is cheaper than a new car.
Maintaining the things we have can make it feel as if we are always spending money, but I think we can all agree that spending an affordable amount now is much better than being backed into a financial corner later.
A sinking fund is the next step beyond budgeting. It requires us to visualize our goals, and plan for the future. A future that we can see and create a plan to achieve is more likely to come true. Sink your money into what you value, and watch your whole world become more valuable.