A Few Tricks to Get More Treats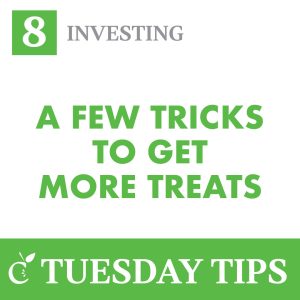 We all know that saving is the most important thing a person can do with their money, but knowing how important it is doesn't make it any easier for the majority of consumers.
Here are three simple tricks to make saving money easier; which means we can buy more treats.
First, self-monitoring is important. Many people make enough money to live on, but somehow it's easy to end up scraping by at the end of every pay-period. The use of our Money Management tool helps our members who use their ECU debit card track exactly how much money they spend on specific things every month.
Our members can use the money management tool for free by logging in to their online banking and click on "Money Management" under the Manage Money tab. Our users can add multiple credit and debit cards, and once a month they receive a concise statement in pie-chart form on how they spend their money each month across the accounts they've linked.
It's easy to overlook or forget some purchases, and that's where money management is helpful because it tracks all of that for you, and shows it to you once a month. Our members can even use it to set savings goals or spending limits for themselves and receive notifications when they are approaching their targets. Best of all – it's FREE!
Next, ECU knows our mobile app is easy to use. Our members know exactly where that "Transfer" button is to move money between savings and checking, and they also know that they can Zelle money from their ECU accounts to their checking or savings at other financial institutions. But there is a place you can put money and it MUST stay there except in the most extreme circumstances: an IRA.
ECU's individual retirement accounts can be opened at any of our branches, and money put in an IRA cannot be transferred or withdrawn from that account unless it's for qualifying medical expenses, funeral expenses, or a down payment on a home. So members who have trouble saving can put their money in an IRA and won't have to worry about having enough discipline to keep it in their account because it has to stay there until they're at least 59 and a half. There are maximum contributions a person can make annually to an IRA so a person can't squirrel ALL of their money away, but they can definitely begin building a healthy path toward retirement – the ultimate treat!
Finally, sometimes it's not what you know it's who you know. And anyone reading this probably knows ECU, which is a great thing because we have a staff of over 30 professionally certified financial counselors. Our experts offer guidance on any financial topic, and connect people to resources that can help them accomplish their goals. Our counselors help anyone who needs it member or non-member, in English or Spanish, AND it's FREE! Sometimes the best trick is knowing who has the answer to your question, and at ECU if we don't already know the answer, we'll help you find it; that's part of what "Learn More. Live More" means to us.
Tools to help you monitor your own finances, accounts that help make saving money a certainty, and professional answers to any financial question – that's the Credit Union Difference!